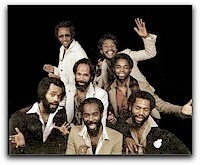 CON FUNK SHUN was one of the most popular R&B & funk bands of the 1970s and 1980s, with numerous hit records including "Ffun",  a Billboard magazine "#1 With A Bullet" Top Soul Single.  The act recorded a total of 11 albums with Mercury Records and still enjoys success with the release of numerous compilations and original albums being released as compact discs.
In 1969, two Vallejo, California high-school classmates Louis A. McCall and Michael V. Cooper, put together a band called Project Soul.  With Louis on drums and percussion and Michael providing lead vocals and lead guitar, the group soon expanded to include Karl "Deacon" Fuller (trumpet), Paul "Maceo" Harrell (saxophone/flute) Cedric Martin (bass Guitar), Danny "Sweet Man" Thomas (keyboards), and Felton "Slyde Clyde" Pilate (trombone/lead vocals).  The seven musicians founded a new group in 1971 called "Con-Funk-Shun", named after a song by the instrumental ensemble The Nite-Liters.  
The group became a backup band for the Stax Records artists The Soul Children in 1973, relocating to Memphis, Tennessee.  In short order, they became one of the label's studio bands.   They came to the attention of Estelle Axton and recorded an album and several singles on her Fretone Records label.  When Louis McCall's future wife, the former Linda Lou Bolden, came onboard to be the group's publicist in 1974, she created several logos for the band without the hyphen, making the name as we know it today - Con Funk Shun. 
By 1976, Con Funk Shun, was one of the most sought-after groups in the South, performing at clubs, festivals, and college functions at least fours nights of every week.  Yet, for a while, it still had not secured a major recording deal.  That all changed in July 1976 when Mercury Records A&R man Jud Phillips finally signed the group to a major recording contract.  They released their first major album "Con Funk Shun" in November 1976.
The band's second album ''Secrets'' was released in 1977 to critical and commercial success.  Thanks to an extensive major national touring schedule, their first hit single, "Ffun", rose swiftly up the charts and landed at "#1 With A Bullet" on Billboard magazine's Top Soul Singles chart in July 1977.  Over the course of 10 years, Con Funk Shun recorded 11 albums with Mercury, with five of them achieving "gold album" status (selling in excess of 500,000 units).  The band performed to sold-out coliseums all over the country.  They had numerous Top 40 hits including "Chase Me", "Love's Train", "Straight From The Heart", and "Shake & Dance With Me".  They recorded their milestone album, " 7" in 1981, the seventh album for seven bandmembers who had been together since their teens.  It included "California 1", "Straight From The Heart", "Body Lovers" and the ''Billboard'' Top 20 Soul Single, "Bad Lady".
==Later years==
In the early 1980s, the advent of synthesized music and poor support from their record company was beginning to cause tension between the boyhood friends.  In addition, lead singer/songwriters Michael V. Cooper and Felton Pilate began to try to assert more control over the band.  Co-founders McCall and Cooper were often at odds with each other.  Cooper, an excellent musician and writer, had always resented McCall's business acumen and negotiating skills (McCall and his wife, Linda Lou McCall, were responsible for booking the band's first major tour in 1977, which resulted in the group's national success and the first of their numerous gold albums.  Even when the band wasn't receiving royalty checks, McCall was able to keep the band on the road, touring with major acts and headlining their own shows.).  While McCall usually deferred to Cooper on artistic issues, he did not get the same support from Cooper on business decisions.  McCall had frequently been voted group leader by the other members, each time causing the chasm between Cooper and the other members to grow wider.  Pilate, the band's other primary songwriter and lead vocalist, often sided with Cooper.  Since the band had always operated on the quorum principle of "participatory democracy", their suggestions were often out-voted by the other members as not being in the best interest of the band.  The tension between the band members was palatable by the mid-1980s, with Cooper trying his best to be the "Lionel Richie" of the group, but his music had not matured over the years and he didn't have the crossover skills that Richie showed while still with the Commodores. Rather than accepting the fact that it was the musical cohesiveness and the overall charisma of all seven members which made Con Funk Shun popular - that no one member outshone the rest - Cooper continued to chafe at what he considered the band's inflexibility to allow him to dominate the choices of songs on the albums.
''Burning Love",  Con Funk Shun's last album with Mercury Records, was recorded without lead singer/songwriter, Felton Pilate, who left the group in 1986.  Melvin Carter, a frequent collaborator of Con Funk Shun, replaced Felton for their final album, ''Burning Love".   Since the band's 10 year contract with Mercury was over, other major labels began talking to them about signing a new contract.  However, Cooper wanted to go on his own and left, refusing several offers from major labels unless they agreed to give him a solo deal. In addition, an internal betrayal by Felton Pilate caused a major breach which resulted in McCall slapping Pilate in the face - a slap that was a long time in coming and co-signed by the other band members.  
While the band decided their next move, McCall went to Washington, DC with his wife, where he was hospitalized for treatment of severe headaches which had plagued him ever since he went through the windshield of Danny Thomas' car when they were 16.  Louis' injuries were life-threatening at that time and it had taken months for his face to be reconstructed and glass chards removed from his skull and brain.  Later tests revealed that he still had tiny bits of glass imbedded in his brain.  Cooper took this time to convince the group that Louis had missed several rehearsals and a suspect minor performance and, therefore, he should be put out of the band.  Apparently these same members forgot the times they gave one member two 28-day hospital stays for drug rehab.   Rather than fight the band on this issue - as a partnership he could not be summarily removed and certainly without his share of the group's considerable tangible assets, Louis was so hurt that he just walked away - he refused to even fight for his drum set, the tools of his trade.  He went on to become a consultant and event producer with clients such as M.C. Hammer, Danny Glover and Harry Belafonte, and to join his wife in marketing such contemporary artists as Eminem, Sean Combs (now "Diddy"), Mya, Three-6 Mafia, T.L.C., Notorious B.I.G.,  and the Black-Eyed Peas.    Cooper released a few solo albums with Warner Bros. but none of them came close to his former glory days with Con Funk Shun.   One of the first musicians ever to have a home studio, Felton Pilate become a successful producer and musical director for rap phenom, M.C. Hammer.  He was later nominated in 1991 for a Grammy for co-producing Hammer's hit record "U Can't Touch This" and an Oscar nominatioin in 1992 for "Addams Groove" on the "Addams Family" soundtrack.  He, too, made several attempts at solo projects with little commercial or critical success.  Currently, he is demand as a producer and consultant.  Danny Thomas formed his own band, appearing throughout California and Nevada, performing a combination of original songs and Con Funk Shun cover songs.
In the 1990s, Michael Cooper and Felton Pilate, with sagging record sales and limited consumer support, finally realized that they were not as strong as solo artists as they had hoped.  They were forced to rely on the legacy of the very band that they had abandoned in 1986.  Without consulting original band members McCall, Martin, or Thomas, they began performing as "Con Funk Shun", with unknown sidemen in place of their former bandmates.    Original trumpet player Karl Fuller appears with Cooper and Pilate, yet they treat him like a sideman.  The reconstituted band, while an excellent cover band, lacks the legendary tightness of its rhythm section, the "hot brass" sound of their horns and the amazing personal charisma of seven good-looking young men who developed a unique and iconic sound.   The new band performs at "old school" concerts and small clubs around the country and overseas.  However, many a ticket buyer has been disappointed thinking that they were going to see the original band, only to discover a set of virtually unknowns fronted by overweight and balding men.
Con Funk Shun's original music can still be heard in such recent films as ''Gone In 60 Seconds'', ''Next Friday'', and ''American Pimp'', which was featured at the 1999 Sundance Film Festival.  Ironically, one of the memorable characters in ''American Pimp'' was John "Rosebudd" Dickson, a childhood friend of drummer, Louis A. McCall.  They played in the Vallejo High School band together and remained friends for life.
Co-founder/drummer Louis A. McCall was murdered on June 25, 1997 in Stone Mountain, Georgia in a home invasion robbery.   His wife fought for almost a decade to bring the case to trial.  A Dekalb County grand jury indicted a suspect on January 18, 2007.  However, due to a bureaucratic mix-up, the alleged killer was "accidentally" released on house arrest.  The same day that the felony murder indictment was announced, he cut off the electronic monitoring bracelet and fled.  He remained on the run for three months until the FBI recaptured him in late April.  He was put on trial in July 2008, with the state's case consisting of dubious eyewitness testimony and, without consulting Louis' family, giving immunity to the man who was likely the shooter in return for his testimony against his alleged co-conspirator.  Fortunately, Judge Gregory Adams declared a mistrial just 2 hours after the jury began deliberation, feeling rightfully that the state did not have sufficient evidence for a capital and felony murder case.  Two weeks later, he dismissed all charges against the young defendant without prejudice.
When the band recorded their seventh album for Mercury Records, it was monumental and significant time in the history of this seven members.  Accordingly, Linda Lou McCall, wrote a special statement to show the band's continued solidarity and spirit of brotherhood.  The album was simply entitled "7".  The design was a large stone monolith number symbol with the band's named emblazoned above it in the stylized font that Linda Lou had designed for its fifth album "Spirit of Love".  The liner notes on "7" include the following creed:
"Renaissance comes by the name Seven - he rebirth of life, love, liberty, and the legacy of hope.  We rejoice as Seven, bringing you the music of our hearts Seven times.  But it is as One that we give you our love."
Peace and Unity, CON FUNK SHUN
Unfortunately Linda Lou's hope for the band's future was not enough.  The group disbanded in 1986 and have barely spoken since.  Michael Cooper has resisted any kind of reunion, even putting on a failed "Reunion Boat Ride" in 2008, but without inviting Cedric Martin, Danny Thomas, Paul Harrell or the widow and children of Louis A. McCall. He was the only band member not to offer his personal condolences to Linda Lou after Louis' death in 1997.  Linda Lou worked hard to get the group's history featured on the popular documentary film show "Unsung" in 2012, hoping that if given the chance to publicly air their differences, some kind of peace among the former "brotherhood" might be achieved.  Yet when Linda Lou lost both of her parents that same year, again there was no contact from Cooper.  Cedric Martin's mother, a key supporter of the band when they first started out, passed away in September 2012.  All of the band members showed up for Mrs. Martin's Bay Area Homegoing - except Cooper.  
"It's a sad indictment on a group who was so close when I first met them in 1974," remarked Linda Lou in 2013.  "No matter what happens in life, men should be men and get over minor grievances because tomorrow is not promised to any of us.  I wouldn't want to see Michael Cooper as disrespected in death as he's done to the men and women on whom his whole career - such as it is - has been based on.  He talks to me but I'm not a person that recognizes nonsense.  Anyway, God always evens the scales in the end."
In spite of the band's interpersonal issues, Linda Lou still works to keep their  legacy alive.  Through her efforts, Louis and Con Funk Shun was honored by the National R&B Music Society Inc. (NRBMS) with a "Lifetime Achievement Award" on September 21, 2014 at its 4th Annual Black Tie Dinner & Award Ceremony in Atlantic City.  
"It's what Louis would be doing if he were here" states Linda Lou.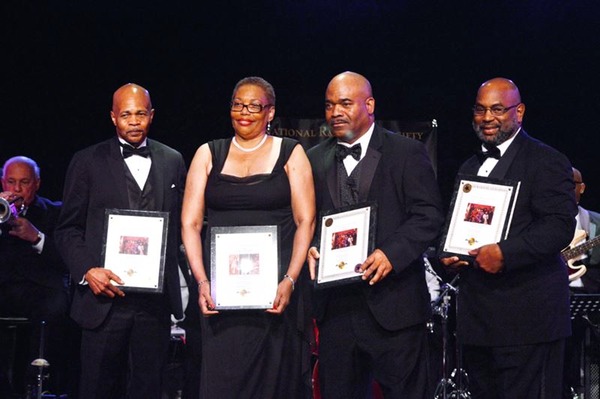 Above at the NRBMS Gala Award & Dinner (l-r) Bernard Martin, CFS road manager accepting on behalf of Danny Thomas, Paul Harrell and Felton Pilate;  Linda Lou McCall. accepting a posthumous award for Louis A. McCall Sr., and founding members Cedric Martin (bass guitar/vocals) and Karl Fuller (trumpet/vocals)
Photo courtesy of The National R&B Music Society - All Rights Reserved
_____________________________________________________________________________
DISCOGRAPHY
Albums
The Memphis Sessions  (1973)

Organized Con Funk Shun  (1973)

Con Funk Shun  (1976)

Secrets  (1977)

Loveshine (1978)

Candy  (1979)

Spirit of Love  (1980)

Touch   (1980)

7  (1981)

To The Max   (1982)

Fever  (1983)

Electric Lady  (1985)

Burning Love   (1986)

The Best of Con Funk Shun  (1993)

Ffun  (1994)

Live for Ya Ass  (1996)

The Best of Con Funk Shun, Vol. 2  (1996)

Con Funk Shun - Greatest Hits''' (1998)

Con Funk Shun - The Ballads Collection  (1998)

The Best Of Con Funk Shun - The Millennium Collection   (2002)

Con Funk Shun - The Collection (2002)

Con Funk Shun - The Definitive CD (2006)

Loveshine & Candy - Double CD (2010)

Touch & 7 & To The Max - Triple CD (2011)

Con Funk Shun & Secrets - Double CD (2013)
Singles
"Sho Feels Good To Me" (1977) - #66 Black Singles

"Confunkshunizeya" (1978) - #31 Black Singles

"Ffun" (1978) - #1 Black Singles, #23 Pop

"Shake And Dance With Me" (1978) - #5 Black Singles, #60 Pop Singles

"So Easy" (1978) - #28 Black Singles

"(Let Me Put) Love on Your Mind" (1979) - #24 Black Singles

"Chase Me" (1979) - #4 Black Singles

"Da Lady" (1980) - #60 Black Singles

"By Your Side" (1980) - #27 Black Singles

"Got To Be Enough" (1980) - #8 Black Singles, #20 Club Play

"Happy Face" (1980) - #87 Black Singles

"Bad Lady" (1981) - #19 Black Singles

"Lady's Wild" (1981) - #42 Black Singles

"Too Tight" (1981) - #8 Black Singles, #40 Pop Singles, #25 Club Play

"Ain't Nobody, Baby" (1982) - #31 Black Singles

"Straight From The Heart" (1982) - #79 Black Singles

"Ms. Got-The-Body (1983) - #15 Black Singles

"Love's Train/You Are The One" (1983) - #47 Black Singles

"Don't Let Your Love Grow Cold" (1984)- #33 Hot R&B

"Electric Lady" (1985) - #4 Hot R&B, #32 Hot Dance

"I'm Leaving Baby" (1985) - #12 Hot R&B

"Tell Me What You're Gonna Do" (1985) - #47 Hot R&B

"Burnin' Love" (1986) - #8 Hot R&B

"She's a Star" (1986) - #80 Hot R&B

"Kush" (2008") - a sample of "Honey Wild", done by Lil Wayne for "Tha Carter 3"
(Chart Positions compiled by Exxtra Foxx Music LLC from Billboard magazine charts.)